Spacer takes the stress out of looking for storage space by setting you up with private storage right in your neighbourhood. Consider us your AirBnB for self-storage! With an estimated population of 1.30 million residents, finding extra space to store your unused valuables in Adelaide can prove almost impossible, and costly. As a host you can make some extra cash each month with little effort – this is passive income at its best. As a renter, you find safe and affordable storage for your unused items within close proximity to your home. Whether you are looking for a safe spot to store or park your car, motorcycle, caravan or boat, or for a longer term place to keep your furniture and more, Spacer offers Adelaide Hills in South Australia storage for you.
With an estimated population of 1,324,279 residents, Adelaide is one of the most centralised areas in Australia. A well-designed city, Adelaide is organised in a grid, with five squares in the center of the city and a ring of beautiful and breathtaking parks adjoining it. Generally, Adelaide's suburban housing zones have been characterised by single-story and detached structures built on approximately 1,000-square-meter blocks. A comparative lack of appropriate and suitable timber for purposes of construction started the early growth of a brick-making industry leading to the use of stone for houses and other structures that characterise Adelaide properties.
Uncovering Adelaide
Whilst in Adelaide, visitors might want to visit the following scenic spots: the Adelaide Zoo, Adelaide Botanic Garden, Cleland Conservation Park, South Australian Museum, Adelaide Oval, Victoria Square, Rundle Mall, Morialta Conservation Park, Belair National Park, Waterfall Gully and the Art Gallery of South Australia.
Festivities
Since 1960, Adelaide locals and visitors have enjoyed the widely celebrated Adelaide Fringe Festival and the Festival of Arts. Due to its popularity, the Adelaide Festival Centre was constructed in the 70's to house more events, introducing film and opera into the city. There are many international cultural fairs in Adelaide. The most outstanding and notable is the Greek Glendi and the German Schützenfest. The City of Adelaide is also home to the Adelaide Christmas Pageant, the largest Christmas parade in the world.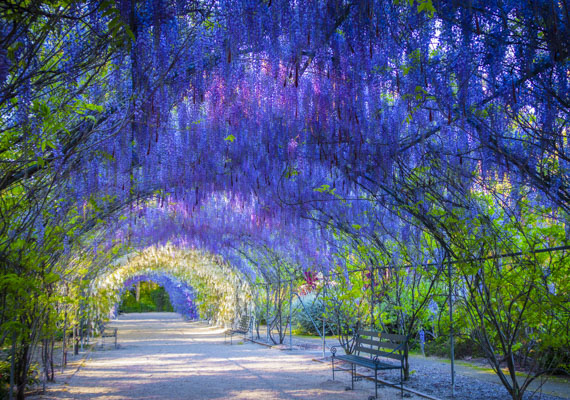 Art & Culture
Adding to its reputation as a cultural centre, The South Australia Art Gallery, with approximately 35,000 works, possesses Australia's 2nd largest state-based collection. Alongside these are the State Library of South Australia and South Australian Museum. Another recommended place to visit is the Tandanya National Aboriginal Cultural Institute, National Wine Centre, and Adelaide Botanic Garden, located nearby in the East End of the city. At the rear end of the State Library lies Australia's oldest museum, the Migration Museum. Adelaide's art scenes embrace South Australia's Contemporary Art Centre.