Spacer offers cheap storage in Brisbane, Queensland. With us, you will find an affordable storage for your car, caravan, boat, furniture and more. We have 100's of hosts who are looking to rent out storage space in their home or garage, so you are guaranteed to find safe & convenient self storage space for your valuables in your suburb, city or even right in your neighbourhood. As a host, you can earn an extra income by renting out your private, unused storage space. You set the price, availability and access for your storage space, and we do the rest. People are always on the lookout for cost-effective storage for their unused but valuable items, so if you have a spare garage, car space, driveway, storage shed, attic, bedroom or backyard space in Brisbane, contact us today.
Brisbane is the popular capital of Queensland, with a population of 2.4 million residents. The central business district stands on the original European settlement and is situated inside a bend of the Brisbane River, about 15 kilometres from its mouth at Moreton Bay. It is well known for its distinct Queenslander architecture which forms much of the city's built heritage. The city is a popular tourist destination, serving as a gateway to the state of Queensland, particularly to the Gold Coast and the Sunshine Coast.
Exploring Brisbane
Brisbane is a contrast of refined city galleries, deserted subtropical beaches and cool vineyards. It is also a mixture of flourishing restaurant, bar and cultural scenes.
Sights
The Brisbane area is home to a number of tucked away beaches on its bayside and nearby islands just offshore. One of the most popular beaches on the island is called Cylinder Beach. It's gentle waves are great for those wanting to learn to surf. The North Stradbroke Island Learn to Surf School is available for those wanting to learn. Nearby is the Main Beach, a 32km long stretch of sand with larger and more powerful waves to swim and surf in. Honeymoon Bay is a 50-metre wide secluded beach on the northern tip of the island, with both waves higher than a metre and calmer floating areas, such as the Pumicestone Passage. It is a ocean channel that runs between Bribie Island and the mainland. The area is home to plenty of birdlife and marine life and is the perfect spot to swim in calm, cool blue water. Sylvan Beach has a boat ramp, barbecues and facilities. Tangalooma Beach stretches 8 kilometres from the Tangalooma Wrecks, perfect for snorkelling, kayaking and wild dolphin feeding at dusk. These are just a few from the long list of beautiful beaches Brisbane has to offer.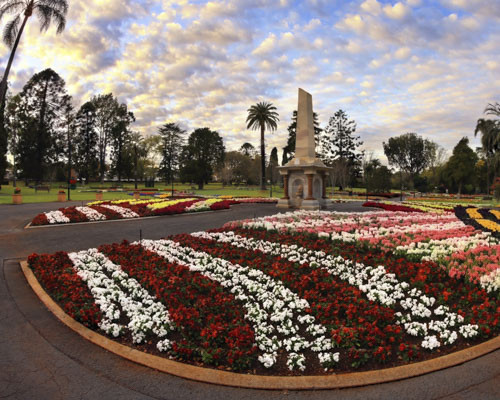 Toowoomba
West from Brisbane is Toowoomba, a town of heritage architecture and well-pruned gardens, street art, specialist coffee shops and a growing number of fashionable eateries and bars. There are more than 150 public parks and gardens in Toowoomba. The city is renowned for the annual Carnival of Flowers, held each year in September. Toowoomba also is home to the Weis Bar. Further North from Toowoomba is Garbutt, the industrial and residential suburb of Townsville. A population of over 2,500 people, Garbutt is home to Townsville's key public infrastructure including Townsville International Airport, RAAF Base Townsville and the Bureau of Meteorology station.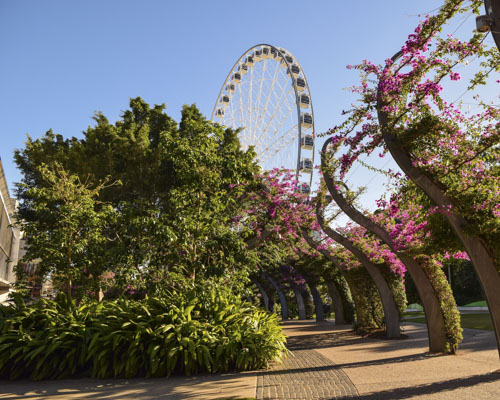 South Bank
South Bank is home to museums, art galleries and cinemas that make a cool retreat during the hot summer days. The Sciencenter of Queensland offers many interactive and educational exhibits for children. The Gallery of Modern Art is the largest of all modern art galleries in Australia. You will also find the Queensland Performing Arts Complex with a theater and a concert hall. Ballets, plays and other live performances are given by locally renowned and international artists. Aside from these, South Bank offers activities such as riding The Wheel of Brisbane, visiting the Nepalese Pagoda, cooling down at Streets Beach and walking down the beautiful Arbour.
Storage in Brisbane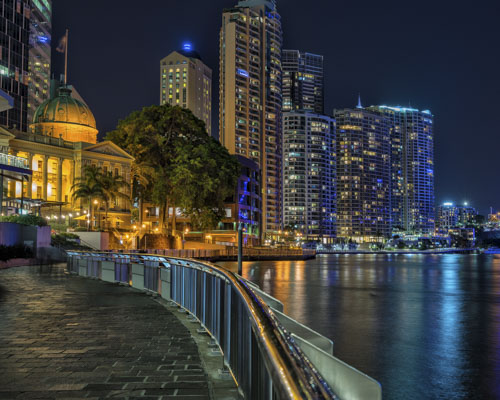 Brisbane is a combination of outdoor adventure, serene gardens and colourful art scenes. A sunny, calm and sophisticated capital city of Queensland with a strong business district. These are just a few reasons why people have chosen to reside in Brisbane.The most popular suburbs include Brisbane CBD, South Bank, Fortitude Valley, Ascot and Hamilton, Bayside, New Farm, South Brisbane, Paddington and West End. Brisbane retains its large traditional tin and timber homes, many of which have underutilised spaces. Nowadays, Brisbane has a number of new apartments available to locals and interstate buyers alike which are relatively cheaper than those units in Sydney or Melbourne. In the last few decades the number of apartment buildings that have been constructed has increased substantially, with expectations of a significant price rise in houses and units. This indicates a need for more affordable space in the area. The state is looking at a population growth in the next few years and middle to high density units are the best way to accommodate incoming Brisbanites. Most locals who gave up their spacious traditional houses to downsize into apartment units often expect to pay extra for storage or parking space.
As demand for storage spaces is growing, this is the best time for Brisbanites living in traditional tin and timber homes to clean up unused rooms, attic or garage and have them rented. Spacer aims to open endless opportunities for people to earn extra money by renting their available spaces. This is also a good time for potential renters to freely choose from Spacer's list of different storage solutions that would best fit their needs. Spacer creates a sharing community where the community of hosts and renters meet.
How does Spacer work for renters?
No matter where you are, we can find a long term parking spot near you. Here are just some of the locations where you can findcheap parkingthrough Spacer to make your life easier:Alexandria, Artarmon, Bondi, Botany, Bronte, Chatswood, Chippendale, Clovelly, Coogee, Darlinghurst, Eastern Suburbs, Hurstville, Kogarah, Leichhardt, Macquarie Park, Manly, Maroubra, Mascot, North Ryde, North Sydney, Parramatta, Pyrmont, Randwick, Sydney, the Inner West, the North Shore and Waterloo... and the list keeps growing every day!Got a spare garage or parking space that you could lease? As aSydney parkinghost, you can make some extra cash each month with little effort. You could earn up to $4,800 a year renting out your garage. It's passive income at its best! Here are the details
How does Spacer work for hosts?
Want to lease your garage for extra income? You can in three easy steps and it's free!

1. Create a listing describing the size, type and access you want to provide.
2. Upload photographs of your unused area.
3. Set the price, and state the conditions. You make the rules, you are in control. Once you're all set up, review prospective renters, accept or reject rental offers as you choose. Agree to a move-in date, then sit back and watch your monthly income roll in! We thoroughly vet all users who need parking in Sydney to ensure your safety. Aside from garages, you can also list anything from your carport, driveway, carpark, shed, attic, spare bedrooms or even yard space. Create a quick and sustainable income stream for you whilst providing a much-needed service to theSydney parkingcommunity. What are you waiting for? Click on at the top of this page, and start space sharing today!We will also be more than happy to help you over the phone. Just give us a call at 1300 500 538
Lease My Space