?
Perth parking is an important factor to consider for people planning to visit the beautiful city. Aside from booking their accommodations, packing their stuff, and preparing their itinerary, determining the parking services in the city is another important item to consider, especially when traveling by car.
Uncovering Perth
Perth is a city situated in Western Australia and where the Derbarl Yerrigan, also known as the Swan River, meets the southwest coast. Perth ranks fourth when it comes to the most populous cities in Australia. It shelters over 1.6 million people who co-exist in a diverse community. This figure is expected to increase to nearly double the current number by 2036.
Festivities
Most of the days in Australia are considered a celebration for Aussies, mainly because of the National Rugby League and the Australian Football League. But for visitors, the city stages some of the grandest and most anticipated festivities in all of Australia. One of those events is the Perth International Arts Festival, known as the longest running cultural festival in the country. Running from February to March, it highlights all forms of arts, including visual arts, theatre, dance, classical music and literature. This festival is where the local people take the grand stage to show the entire country what they can do. On the other hand, people hoping for a lot of laughs can always visit Perth during the Perth International Comedy Festival where international and local comedians bring their material and perform in front of thousands of people. Those who think Jim Jefferies or Adam Hills are hilarious are surely in for a treat. Pop-up festivals and celebrations also come and go in Perth, so make sure to keep an eye out for them.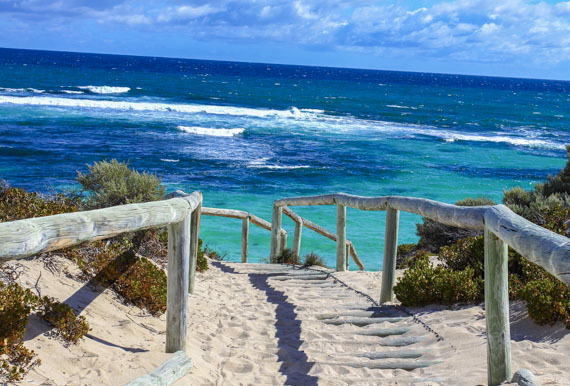 Sights
Some of the best sightseeing areas in all of Australia are sitting in Perth. These include the magnificent Swan River, the Kings Park War Memorial and the historical Perth Mint. The city offers a wide variety of tourist destinations and activities like visiting museums and Botanic garden and island hopping along the Rottnest Islands. Guests can't miss visiting Perth landmarks like the Fraser Avenue Lookout, which offers a view of the metropolitan area and blends well with the trees and lakes in between. Perth's key industries are construction, manufacturing, retail, education, finance, and tourism.
Food
Tourists can enjoy both the local and international cuisines offered by the many restaurants across the city. They can also enjoy full course meals from homey classics such as the Market Grounds at the Kings Square Precinct. If visitors are in the mood for something casual, then they can just approach the food truck Gift of Taste and have some of their renowned hand-made donuts. Restaurants, pubs, cafes, dessert stores, and more are waiting in the city.
Parking in Perth
Aside from determining the places to go and things to do in Perth, it is also important to consider Perth airport parking and Perth city parking. The city's official website, which is run by the government, has its own page designated for guidelines regarding the city's parking areas. The page gives people information on the best places to park – whether in a residential area, in commercial buildings, or on the street. At Spacer, we also offer parking solutions. The sharing economy in Australia is booming, with more and more companies and members of the public renting out their properties to locals and visitors. Perth is also among the many cities in the country that engage in the business of leasing and renting spaces for Perth airport parking, Perth city parking and storage.
For visitors or tourists and locals looking for places to safely park their car, a number of residents in Perth offer their own spaces for rent. Secure parking spaces in Perth are available all over the city. It is important to finalise parking arrangements beforehand to remove extra hassle upon arriving in Perth. Click here to search for spaces perfect for you.
If you are a local with residential or commercial properties in Perth, you can put your empty spaces up for rent and earn a little extra income. To start earning, all you have to do is fill out the details, set the rules for your space and start accepting bookings.
Whatever type of parking space you need and wherever in Perth you may need it, Spacer.com.au has something for you.
How does Spacer work for renters?
No matter where you are, we can find a long term parking spot near you. Here are just some of the locations where you can findcheap parkingthrough Spacer to make your life easier:Alexandria, Artarmon, Bondi, Botany, Bronte, Chatswood, Chippendale, Clovelly, Coogee, Darlinghurst, Eastern Suburbs, Hurstville, Kogarah, Leichhardt, Macquarie Park, Manly, Maroubra, Mascot, North Ryde, North Sydney, Parramatta, Pyrmont, Randwick, Sydney, the Inner West, the North Shore and Waterloo... and the list keeps growing every day!Got a spare garage or parking space that you could lease? As aSydney parkinghost, you can make some extra cash each month with little effort. You could earn up to $4,800 a year renting out your garage. It's passive income at its best! Here are the details
How does Spacer work for hosts?
Want to lease your garage for extra income? You can in three easy steps and it's free!

1. Create a listing describing the size, type and access you want to provide.
2. Upload photographs of your unused area.
3. Set the price, and state the conditions. You make the rules, you are in control. Once you're all set up, review prospective renters, accept or reject rental offers as you choose. Agree to a move-in date, then sit back and watch your monthly income roll in! We thoroughly vet all users who need parking in Sydney to ensure your safety. Aside from garages, you can also list anything from your carport, driveway, carpark, shed, attic, spare bedrooms or even yard space. Create a quick and sustainable income stream for you whilst providing a much-needed service to theSydney parkingcommunity. What are you waiting for? Click on at the top of this page, and start space sharing today!We will also be more than happy to help you over the phone. Just give us a call at 1300 500 538
Lease My Space