Looking for cheap monthly parking in Melbourne that's secure? Then look no further! Safe and cheap parking in Melbourne is possible through Spacer - Australia's premier peer-to-peer marketplace that connects people with space, to people who need space. Say goodbye to expensive parking rates and council parking fines! Spacer takes all the stress out of looking for parking space in Melbourne by setting you up with affordable private parking. Say goodbye to your Melbourne parking woes! Whether you are looking for a safe spot to store or park your car, motorcycle, caravan or boat, or for a long-term place to keep your furniture and more, we will find a secure parking spot for you.
We are everywhere! No matter where you are, we can find a parking spot near you. Here are just some of the locations where you can find cheap parking in Melbourne through Spacer: Abbotsford, Albert Park, Brunswick, Carlton, Docklands, Fitzroy, Melbourne CBD, North Melbourne, Northcote, Port Melbourne, Richmond, South Melbourne, South Yarra, Southbank, St Kilda, Toorak, Yarraville… and the list keeps growing every day! Got a spare garage or parking space that you could lease? As a Melbourne parking host, you can make some extra cash each month with little effort. You could earn up to $4,200 a year renting out your garage. It's passive income at its best! Here are the details.
Welcome to Melbourne. Australia's sporting and cultural capital. Melbourne is an artsy and dynamic cosmopolitan. Sport is a crucial part of the social fabric. In fact, there are nearly as many sporting events as there are public holidays. Melbournians are passionate about AFL football, cricket, horse racing, grand-slam tennis and Formula One Racing. As for its multicultural side, Melbourne is a mixture of everything from European to Asian influences. Melbourne's old architecture reflects European heritage. Scattered art-deco and street arts partly reminds people of New York. There is a diverse range of cuisines with Vietnamese food in Richmond, Lygon St in Carlton for old-school Italian, Brunswick for Middle Eastern, Footscray for African and Chinatown for all manner of Asian cuisines.
Melbourne has a large collection of wildlife both in and out of the city that harmoniously co-exist with the modern CBD. The numerous parks and gardens in Melbourne city are home to many native bird species, like the Australian Magpies and Magpie-larks, to name a few. Parks and reserves outside of Melbourne have the most wildlife offerings. East of Melbourne is home to Superb Lyrebirds, King Parrots, Wombats and Wallabies. East Gippsland also has a spectacular coastline and mountain forests, home to a number of iconic Australian animals such as Platypus, Goannas, Greater Gliders and wild Dingoes. West of Melbourne is mostly a dry woodland that is home to koalas, Eastern Grey Kangaroos, Kookaburras and Cockatoos. The far north-west, the Mallee, is known for Malleefowl, Major Mitchell's Cockatoos, Regent Parrots and Emus.
Uncovering Melbourne
Melbourne is a cosmopolitan with a sensational cityscape, statuesque architecture and Art Deco buildings, spectacular facades, contemporary towers and an exciting mix of multicultural cuisines are waiting to be experienced.
Sights
The city centre has a reputation for its historic and prominent lanes and arcades such as the Block Place and Royal Arcade where a variety of shops and cafés can be found. Melbourne CBD, compared with other Australian cities, has comparatively unrestricted height limits. As a result, it is now home to five of the seven tallest buildings in Australia. The tallest of which is the Eureka Tower, situated in Southbank, with the Rialto tower coming in close second. The CBD and surrounds also contain many significant historic buildings such as the Royal Exhibition Building, the Melbourne Town Hall and Parliament House. Melbourne is often referred to as Australia's garden city due to the abundance of parks and gardens close to the CBD. These parks are often considered the best public parks in all of Australia's major cities.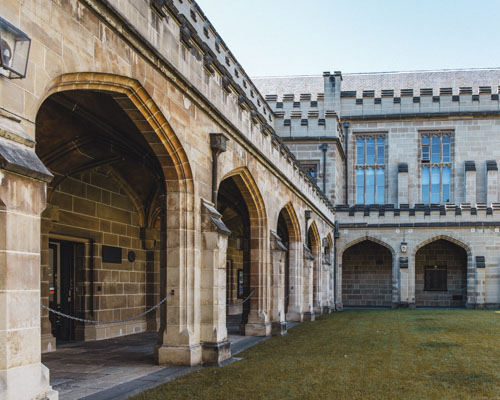 Education
Some of Australia's most prominent and well known schools are based in Melbourne. Six out of the top twenty high schools in Australia are located in Melbourne. According to the Better Education rankings, Melbourne was also ranked the world's fourth top university city in 2008 after London, Boston and Tokyo. The city is home to the Royal Melbourne Institute of Technology as well as seven other public universities: the University of Melbourne, Monash University, La Trobe University, Royal Melbourne Institute of Technology (RMIT University), Deakin University, Swinburne University of Technology and Victoria University.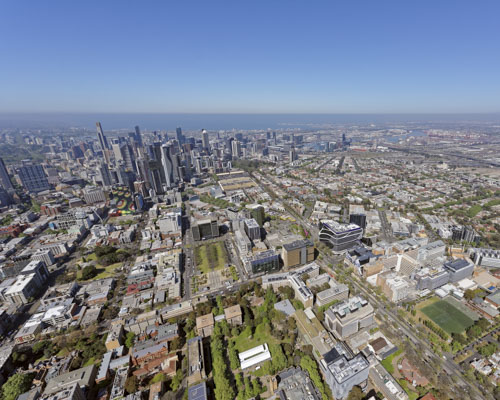 Medical Services
There are also many major medical, neuroscience and biotechnology research institutions located in Melbourne: St. Vincent's Institute of Medical Research, Australian Stem Cell Centre, the Burnet Institute, Australian Regenerative Medicine Institute, Victorian Institute of Chemical Sciences, Brain Research Institute, Peter MacCallum Cancer Centre, the Walter and Eliza Hall Institute of Medical Research, and the Melbourne Neuropsychiatry Centre. Melbourne also is the home of the Royal Children's Hospital.
Parking in Melbourne
Apart from the famous landmarks and attractions in Melbourne, it also has a highly diversified economy with particular strengths in finance, manufacturing, research, IT, education, logistics, transportation and tourism. Melbourne houses the headquarters of many of Australia's largest corporations. In the 2017 Global Financial Centres Index, Melbourne was ranked as having the 21st most competitive financial center in the world. Melbourne has an integrated public transport system based around extensive train, tram, bus and taxi systems.To accomodate private vehicles, Melbourne has a network of freeways and arterial roadways.
Melbourne has minimal public housing and the high population growth is generating large demand for rental housing. This housing boom has increased house prices and rentals, as well as the availability of all types of accommodation. According to the Australian 2016 Census, more people prefer living in apartments because of affordability and proximity to the central business district. In Southbank, 98 percent of 18,000 residents live in an apartment while just 14 people live in detached homes. In Docklands, the statistics were away of only three detached house dwellers. With more people choosing to downsize, finding available parking in high-density properties is difficult. Especially for those residing in the outer suburbs due to the high expense of city living, private vehicles remain a necessity for some. Public parking is sometimes provided but are not always readily available.
Despite this seeming lack of parking solutions, a large number of residential and commercial property owners have unused parking spaces. Spacer provides a large list of hosts with existing, unutilised carports, driveways and garages that you can rent for just a fraction of the cost of commercial parking spaces. These parking slots are usually located a few minutes away from your home. We also provide opportunities for people with underutilised spaces at home to earn extra by renting to those who need it. Spacer aims to create a harmonious sharing community where hosts and renters meet.
How does Spacer work for renters?
No matter where you are, we can find a long term parking spot near you. Here are just some of the locations where you can findcheap parkingthrough Spacer to make your life easier:Alexandria, Artarmon, Bondi, Botany, Bronte, Chatswood, Chippendale, Clovelly, Coogee, Darlinghurst, Eastern Suburbs, Hurstville, Kogarah, Leichhardt, Macquarie Park, Manly, Maroubra, Mascot, North Ryde, North Sydney, Parramatta, Pyrmont, Randwick, Sydney, the Inner West, the North Shore and Waterloo... and the list keeps growing every day!Got a spare garage or parking space that you could lease? As aSydney parkinghost, you can make some extra cash each month with little effort. You could earn up to $4,800 a year renting out your garage. It's passive income at its best! Here are the details
How does Spacer work for hosts?
Want to lease your garage for extra income? You can in three easy steps and it's free!

1. Create a listing describing the size, type and access you want to provide.
2. Upload photographs of your unused area.
3. Set the price, and state the conditions. You make the rules, you are in control. Once you're all set up, review prospective renters, accept or reject rental offers as you choose. Agree to a move-in date, then sit back and watch your monthly income roll in! We thoroughly vet all users who need parking in Sydney to ensure your safety. Aside from garages, you can also list anything from your carport, driveway, carpark, shed, attic, spare bedrooms or even yard space. Create a quick and sustainable income stream for you whilst providing a much-needed service to theSydney parkingcommunity. What are you waiting for? Click on at the top of this page, and start space sharing today!We will also be more than happy to help you over the phone. Just give us a call at 1300 500 538
Lease My Space