The Things No One Tells You When You Move Interstate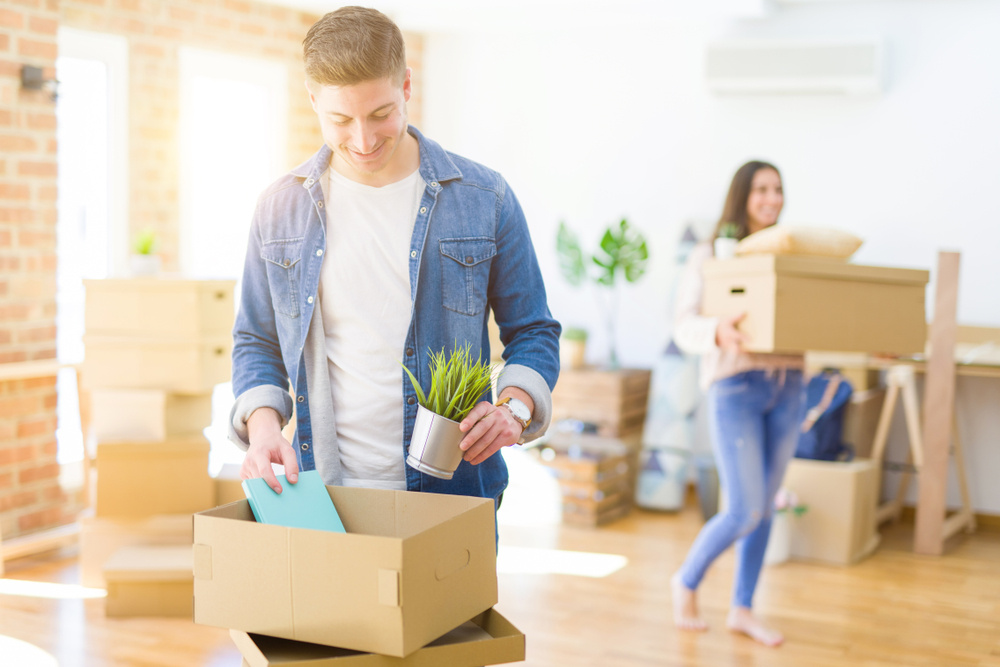 We all know the basics of moving. The packing tips, the best ways to organise our belongings, how to make moving day easier.
But when you're in the middle of a big move, especially an interstate move, there are bound to be some surprises along the way. Things like hidden costs, finding the best removalist company, and how in the world to get settled into a completely new state. These are all things no one tells you when you move interstate.
In this guide, we're going to talk about all of those hidden hurdles of moving interstate so that you can best be prepared during your move. If you've had any nervousness about moving interstate, don't worry. We're going to help you face this move head-on so that you can start your new life on the right foot.
There's a lot to cover, so let's get right into it!
Overview of the things no one tells you when you move interstate
Here's a quick breakdown of the things we're going to cover, here:
The hidden costs of your move

Logistics you have to deal with in advance

The last minute things you might forget

Troubleshooting issues with your removalist

The woes (and triumphs) of moving day

What to nail down in your first week in your new home

Navigating the social transition
These things nobody tells you (from here on out, we'll call them TNTYs) can be frustrating when you have to deal with them during your move interstate. So, talking about them now and planning for them ahead of time can save you a lot of stress!
TNTY #1: Hidden costs of your move
There's no getting around it – moving is expensive. While there are some things you can do to save money (asking friends and family for moving boxes, for instance), an interstate move will inevitably be more expensive than a local one.
Here are some of the hidden costs that you might face on your interstate move:
Hidden cost #1: Insurance
We listed this cost first because it's the one that many people don't expect. But with a long complicated move ahead of you, you definitely want to purchase moving insurance. This is going to save you money in the long term because, unfortunately, it's pretty likely that some of your items may get damaged.
Depending on how many belongings you'll be moving, and how far you're traveling, moving insurance could range between $200 and $1000. Sometimes, the insurance is included in your removalist's price, so it's important to ask about coverage.
Hidden cost #2: Removalist and packing boxes
Alright, this one's not so hidden – you probably expected that this would be your biggest expense. But, hiring people to come in and do the heavy lifting will take so much stress out of your move. Especially for interstate moves, it's often worth the price.
There are different ways that you can go about hiring a removalist. Some companies will do absolutely everything for you, from the packing, to the transport to the unpacking when you arrive. As you can probably guess, this will be the most expensive.
Another option is to do self pack removals, in which you do the packing, and the removalist deals only with the transport. The way this often works is that the company will bring a storage container to your home, you'll fill it with your items, they'll take it to your new location, and you'll do the unloading. This may not be the easiest option, but for many families, it's the one that makes the most sense. The price will be lower, and if you're healthy and strong (or you've got friends who are), the loading and unloading is worth the savings.
One final way to get your belongings to your new home is through backloading. With backloading, you'll be sharing space with storage containers or large trucks that are going to your destination anyway. It's like hitching a ride for your belongings. This is likely going to be the cheapest option you find, but there are some drawbacks. You might have to organise your move around the company's schedule. Plus, it can sometimes be tricky to fit all of your belongings into one trip.
Overall, a big portion of your moving costs will go to whichever service you choose. It's hard to give an estimate, as it's going to depend on how far you're moving and how many items you'll be transporting. But the general estimate that removalists offer is somewhere between $2,000 and $6,000 for an interstate move.
You can learn more about finding the right removalist company by checking out our article on the best moving companies in Australia. And, we'll talk a bit more about how to create a good relationship with your removalist later on in this guide.
Oh, and one last thing about removalists – you might consider budgeting a tip for them. For most companies, a monetary tip is not expected but will be appreciated if you think their service went above and beyond. Even buying them a round of beers or some other gesture will let them know how much you appreciate them making the move go smoothly.
Hidden cost #3: Storage and temporary accommodations
If we lived in a perfect world, you would be able to hand over the keys to your old place in the morning and move all of your belongings into the new place that same afternoon. But that's often not how things work out in real life. Sometimes there's a gap between when you have to move out and when you can start moving in. Staying at an Airbnb or hotel is an easy solution for you and your family, but what are you going to do with your belongings?
Luckily, Spacer offers plenty of cheap storage options all over Australia. Whether you're moving to Sydney, Melbourne, Brisbane, Canberra, Perth, Darwin, or anywhere else around Australia, you'll find plenty of places to store your items.
Even if you don't have a gap, it's a great idea to keep a storage unit during your transition. After all, there will inevitably be items that don't quite fit in your new place but that you don't want to let go of. And, there might be items that you want to sell but don't want to keep at home while you're waiting for a buyer.
When it comes to booking a hotel, make sure to book as early as possible to get the best price. You'll also want to call the hotel to confirm the day before you move. As rare as it is to have a booking lost, the law of the universe is that moving day will be the one time something like that happens.
Hidden Cost #4: Food and other expenses leading up to moving day
In the last few weeks before your big move, you'll notice that you'll be relying more on take-out and easy meals so that you don't have to keep cleaning and repacking your kitchen supplies. It's a good idea to budget for this so that you're not stressing about it as a hidden cost.
Hidden Cost #5: Cleaning
Whether you bring in a professional to clean your place, or you take on that work yourself, there will be some out-of-pocket cost.
In general, an end-of-lease cleaning will cost somewhere between $25 and $35 per hour. For a three bedroom house, then, you're looking at a total cost of about $150 to $350. This may seem a bit high, but most bond cleaning companies will guarantee a return of your bond.
On the other hand, if you're going to do the cleaning yourself, it's a good idea to buy new supplies that you'll then pack up and take with you. Just keep in mind that doing the cleaning yourself might become a cost in itself if you don't clean well enough to get your whole bond back. You can learn more about how to do an excellent cleaning job yourself by reading our article on end of lease cleaning.
Hidden Cost #6: Your personal moving day costs
If you're moving interstate, chances are, you're going to have to pay for the driving costs or flight. This could also include overnight accommodations if you're making the trip over a time period of more than one day.
If you have pets, you'll also need to factor in the costs of transporting them.
Hidden Cost #7: Setting up the new utilities
When you arrive at your new home, one of the first things you're going to want to do is take a hot shower – and maybe connect to the internet. So, you'll want to make sure your utilities are all set up when you arrive.
One hidden cost of moving, though, is getting all of your utilities in order. In fact, for some utilities, you might end up paying a disconnection fee as well as a connection fee at the new place. Usually this is under $100, but it could be more since you're moving interstate. It may also be upwards of $100 if you're planning on switching your utility company.
Make sure you give your utilities providers a call at least a week before moving to get an idea of what the costs will be.
Hidden Cost #8: The new items you'll inevitably buy
Moving is a wonderful opportunity to switch up your home decor and go for a whole new look. You might also notice that, with the different layout, you may need to buy different floor rugs, window coverings, or wall hangings.
And even if you don't want to change a thing about your interior design, there may be a few other things that you'll need to buy to make your home complete. At the very least, there will be the cost of restocking your fridge and making sure the bathrooms have enough toilet tissue. It's also a good idea to buy a good supply of lightbulbs and cleaning supplies.
TNTY #2: Things to plan in advance
There are a few things that you'll need to handle to make your transition as seamless as possible. Here are a few of the details you'll need to iron out in advance of your interstate move:
Get the kids enrolled in school. You will likely need to obtain a transfer certificate and gather other information about your child's studies before moving interstate. Make sure to contact their new school to familiarise yourself with the school switching process.
Make a plan for your pets. Moving interstate becomes just that much harder when you throw a pet in the mix. If you're flying, you'll want to see what the policy is for transporting animals on your airline. If you're driving, you'll need to make sure to have a proper carrier and factor that into your packing space. Alternatively, there are some removalists who will handle the transport of animals. It's up to you how you want to go about taking your pet with you, just make sure you have it all planned out in advance. One other thing you'll want to do before traveling with your pet is to go to the vet. Your veterinarian will tell you whether your fur baby is physically fit to travel, and may prescribe something for the stress.
Anticipate having to transfer your driver's license. Many states require that you apply for a new driver's license within 90 days of moving to your new state. You might be able to start this process before you move so that you don't have to worry about the time limit.

Updates for your car registration. Like your driver's license, you may have to re-register your vehicle in your new home.

Notify all of the governmental agencies. The ATO, the Australian Electoral Commission, your health providers and anyone else who will need your new address.

Consider switching banks. If your current bank is a local company, you might have to open a new bank account in your new state. Take a look at your options before you go.
TNTY #3: You might forget these things!
There's a lot going on during an interstate move, and it seems some things just want to get lost in the chaos. Keep these things in mind to save yourself from a pretty frustrating moving day:
Keys. During your interstate move, you're going to have a lot of keys to keep track of. There's the keys that you'll have to return to the landlord, and the keys to your new place that you definitely don't want to lose. You might also be dealing with moving vans, storage units, car keys. As obnoxious as it is, you might want to attach your keys to large, brightly coloured key chains or lanyards just to keep track of them. We're talking neon colours, pom-poms, whatever helps them stand out among your sea of boxes and suitcases.

Phone chargers. It's common to want to charge your phone up until the last minute before you leave so that you have enough battery to get you through moving day. But it's also really easy to leave that phone charger plugged into the wall on your way out, so make sure that you don't forget any charging cords and ports still plugged in.

Any hidden items. Maybe you're one of those clever people who hides money or family heirlooms under that loose floorboard or in a secret drawer in the closet. Or, maybe you've got more mundane things hidden like a spare key under the flower pot in the front yard. Whatever you've got hidden away, make sure you don't forget it before moving house.

Saying goodbye to neighbours. If you had a good relationship with your neighbours, don't forget to give them a warm goodbye! On the other hand, if they complained about your dog barking or threw big loud parties or were otherwise less-than-perfect neighbours, be the bigger person and say goodbye anyway! It will give you closure.
TNTY #4: Things with the removalist may not go to plan
Ever heard horror stories of the removalist simply not showing up? Or dropping an expensive piece of furniture? Or being rude and unpleasant during the entire trip?
Unfortunately, it can be hard to know what you're going to get the day that you move house. Even if you did your research to find the best reviewed removalist, there are days that a company could be short-staffed or overworked. Here are some things that no one tells you about troubleshooting any issues with a removalist:
Put on a friendly face. From the very first call to your removalist, make sure that you are friendly and polite. This is going to help you stand out as a customer that this company is going to want to keep around. On the other hand, if the company is rude to you when you've gone out of your way to be nice, it's a pretty good indication of what the relationship could be like.

Make sure to look over the contract a couple of times. It's important to know exactly what is included in your price so that there are no wrinkles or arguments on moving day.

Call again a few days away from moving day. A quick call to confirm your reservation can save you from that horrifying no-show situation. Make sure that you double-check when the movers are expected to arrive.

Have everything 100% ready to go on moving day. If you're packing your items yourself, make sure you are absolutely finished by the time the removalists show up at your home. If they're helping you pack, make the process easier by grouping items that you want to be packed together and cleaning as much as you can.

Be the diplomat and the advocate. During the day, it's okay to voice your concerns and make sure that your items are being handled with care. But before you say anything, think about how you can best convey your message diplomatically. Your message will be much better received when you approach issues without an accusatory tone.

Offer your removalists some refreshments throughout the day. Moving is a hard business, even for the professionals. Providing water and some snacks can make the day so much easier for them, and it can also prevent injuries and accidents.

When things get bad, document. If you're starting to have serious issues with your removalist, it might be time to start documenting and building your case for your insurance. Getting in a big fight with your movers isn't going to make much of a difference. But taking pictures, writing down your experience, and calling the company directly will grab the attention you need to make your case and get your money back.

If things are still unresolved, consider lodging a complaint. The fair trading agency in your state will accept your complaints if you feel that a removalist company is running a harmful and irresponsible business.
Unfortunately, it's possible to have a bad experience with your removalist. And when it comes to moving interstate, it's one of those things that no one tells you how to deal with. But, with some preventative steps like simply being friendly and offering refreshments, you can avoid most problems during the move. And if those don't work, you've also got some steps to take to make things right.
TNTY #5: The woes (and triumphs) of moving day
You can probably guess that moving day is going to be a long, stressful day. It's just how it is. But there are some things that nobody tells you about moving interstate that could help the day go much smoother. Here are some of the woes and triumphs of moving day to get you through.
Anticipate the woes
There are a few words of advice that everyone picks up after they've gone through an interstate move. Here are a few of the best tips we've found for the interstate moving day that will help you anticipate and minimise the woes:
Get a good night's sleep. We get it. This isn't always possible. There are last minute things to pack. You might find yourself staying up thinking about whether everything is going to fit in your new place. You might want to wake up early to call the removalists.

But, if at all possible – try to get a full 8 hours of sleep. It's going to help you feel a lot more focused and energetic on moving day, which will lower the risk for moving injuries or item damages. You'll also be less likely to forget anything. Plus, when everyone in the family is well-rested, there will be less opportunities for crankiness. A better day overall, for everyone involved.
Eat healthy. Not only will healthy meals make you feel more energised throughout the move, but they'll also lower the risk of upset stomachs. No one wants to move furniture or drive to a new state when their body is waging war with their lunch.
Prepare some fun games for little ones. No matter if you're driving or flying to your destination, it will be such a lifesaver to have the kids happy and engaged. For road trips, it can be fun to put together a game of Road Trip Bingo or play Spotto on the way. Here's a great resource for travel games for kids. Having something prepared for your kids will definitely lower the risk of boredom.
Make sure your pets are well cared for. The day before your move, make sure that your pet gets plenty of exercise. If you've got a cat, bring out their favourite toys and get them nice and tired. If you have a dog, you might consider hiring a dog walker (Mad Paws is a great option) to make sure they're well-exercised. The next day, right before loading your pet in the carrier, give them another play session. This will make sure they're more relaxed going into moving day. You should also try to feed your pet at least 4 hours before traveling. This will lower the risk of car sickness or an upset stomach.
Have a backup plan. Sometimes, things get delayed. It might be the movers, your flight, a fender bender, or any number of different things. Instead of feeling stranded in the middle of your move, it's a good idea to anticipate the woe by having a plan for delays. Maybe take a look at the different towns that you'll be passing on your way or add a few emergency contacts to your phone, such as a tow service.
Try to keep a good attitude. Having a good attitude isn't going to keep the moving day woes at bay, but it will certainly help you deal with any issues as they come up. Try your best to stay calm and remind yourself that soon, you'll be in your new home and this challenge of a day will be behind you.
Celebrate the triumphs
Even if you hit a few road bumps during your move interstate, make sure that you point out the triumphs too! If you get on the road on time, for instance, acknowledge that! If traffic is smoother than you expected, thank your lucky stars! And, if you've got young kids who managed to not cry on the plane, jump for joy! Pointing out these simple triumphs of moving day will keep you energised and ready for any road bumps.
TNTY #6: What to nail down in your first week in your new home
You made it! You're in your new home! You're starting your new life! And, you may be thinking, well, what now? Here are a few things that nobody tells you that you should definitely do within the first week of moving interstate:
Get the kids enrolled in school. You've already done the groundwork of getting the transfer certificate and gathering all other paperwork. If the school year is underway, you'll have to drop off the kids immediately. It's also a good idea to familiarise yourself with the school and teachers as soon as possible.

Find your new family doctor, dentist, and vet. You don't want to wait until there's an emergency to get to know your family's new health providers. Within the first week, you'll at least want to start making appointments for any physical exams for the human and furry members of the family.

Follow through on any of those logistical things we discussed earlier. You might have to go in to get your new driver's license or make an appearance at your new local government offices to make sure everything is in order.

Leave reviews for anyone who helped you with your move. The best thing you can do for your removalist or end of lease cleaner is to leave a good review. Make sure that you write your review within one week of the service while your experience is still fresh in your mind.

Take the time to unpack. The longer you drag out the unpacking process, the longer it will take for you to feel settled in your new place. If you can, try to finish the unpacking process within the first week of getting into your new home. You'll feel so much better and it will be much easier to start your new life. Plus, you might be able to sell back your packing boxes or any items that you feel don't fit in the new space. That will help to offset some of the cost of the move.
TNTY #7: The social transition may not be automatic
One of the things that surprises many people when they move to a new state is how difficult it can be to transition socially. Especially if you've been living in one state for many years, it can be a shock even to move one state away from the place you've called home for so long.
Here are some things nobody tells you about navigating the social transition of an interstate move:
Getting to know the neighbourhood is a good first step. Throw yourself into your new community by getting out for a walk around the neighbourhood to say hello to some of your neighbours. Once you're settled, you can even invite them over for dinner to start building relationships. You might also make an appointment at a new hairdresser or massage place. Even chatting with the cashiers at your local grocery store or coffee shop can help you start to feel at home.

Say yes. If your neighbours or new coworkers invite you to social events, say yes! Obviously, you also deserve some time to rest and recuperate from your big move, but it's a great idea to open yourself up to the social scene in your new home.

Get into a schedule. Especially if your move has come with a period of not working, it's going to be important to create a consistent schedule to give some order to your daily life. It's a little trick, but it can make a big difference in helping you feel grounded.

Take some classes. In your new city, there are bound to be some fun classes that will allow you to socialise with locals. Whether it's a pottery class, dance class, running club, or theatre group, you'll be glad that you took the time to make friends and learn something new. A good place to start is to look at some classes on ClassBento.

Be mindful about your relationship with your former support system. If all of your friends and family were left behind in the move, those relationships are going to change somewhat. For some people, it can be helpful to have someone to call when they're feeling homesick and frustrated. Others may spend so much time chatting with and thinking about the friends in their old state that they don't open themselves up to building new relationships. There's obviously a balance – just make sure that you're conscious of whether your old friendships are building you up or holding you back.

Gratitude, gratitude, gratitude. When you make a move interstate, it can be easy to fall into the trap of comparing your new life to the old. You might miss the restaurants in your old neighbourhood. You might miss the weather. You might miss your house. But, when you focus so much on what you're lacking, it can prevent you from appreciating the new wonderful things in your life. Take some time every day to think about or write down some of the things that you love about your new city.

Validate the fact that it may take more time than you expect. There's no formula for settling into your life in a new state. For some people, it will only take a few weeks to feel completely comfortable in the new setting. For others, it could take months or even longer to put down roots and feel at home. This can sometimes become a conflict in relationships or family units in which one person is taking a bit longer to adjust than others. The best thing to do is have patience and understand that everyone has a different timeline.
Still having trouble? Reach out! Moving interstate is a big life transition that can be stressful and difficult. A mental health professional may be able to help you navigate the transition so that you can integrate successfully. You don't have to go it alone!
The Ultimate Moving Interstate Checklist
We've talked about all of the things that no one tells you when you move interstate. And now it's time to put all of that knowledge into an easy-to-use checklist! Print this out, personalise it, keep it with you, and start planning your interstate move!
Things to do before you go:
Estimate your moving expenses:

Insurance: __________

Removalist and packing boxes: __________

Storage: __________

Hotels: __________

Meals (week leading up to the move plus moving day): __________

End of lease cleaning: __________

Flights, fuel, and other traveling expenses: __________

Pet care and transportation: __________

Transfer of utilities: __________

Miscellaneous for the new house: __________

Get the kids enrolled in their new school

Book your removalist

Transfer utilities

Internet service provider

Electricity

Gas

Phone bill

Television

Security system

Water and sewage

Learn about how to apply for your new driver's license and update your car registration

Notify your address change:

Australia Post

Australia Taxation Office

Australian Electoral Commission

Human Services

Concession and health care cards

Insurance companies

Healthcare providers

Magazine subscriptions

Friends and family

Change banks or notify of your address change
Things to keep in mind on moving day
Go to sleep early the night before moving day!

Don't forget the commonly forgotten things:

Keys

Phone chargers

Hidden items in your old home

Say all of your goodbyes!

Lay the groundwork for a great removalist experience

Call ahead of time to confirm reservation

Look over the contract again

Have water and snacks to share

Prepare games for the little ones

Have a backup plan for delays
* Remember to keep a good attitude and highlight the things that went well to keep your and everyone's spirits up!
Things to do within one week of moving in
Make sure the kids are enrolled in school

Find your new family doctor, dentist, and vet

Follow up on your driver's license, car registration, etc.

Leave review for the removalist and end of lease cleaners
Things to remember as you start your new life:
Don't be afraid to get out and explore the community

Start making friends with your neighbours, hairdresser, grocer, etc.

Set up a consistent daily schedule

Take classes

Make sure you strike a balance between your old friends and your new life

Practice showing gratitude for your new life

Give it time

If you're struggling, don't go it alone!
Download the checklist here.
The only thing left is to get packing!
You're just about ready to pack up for your big interstate move! In this guide, we talked about all of the things no one tells you about moving interstate. But of course, you'll inevitably find unique surprises when it comes to your own journey!
Share your tips, tricks, woes and triumphs with us! We at the Spacer team love to hear about those brave souls who make the decision to move to another state!