10 Home Office Storage Products to Declutter Your Office in Minutes
Over the past few years, working from home has become the new normal. While this shift from traditional office space to home offices is a welcome one, it does bring with it one big problem: not enough space! This is especially true if your home is on the smaller side. Running a home office requires plenty of furniture, equipment, and stationary that can take up an awful amount of space and result in an unsightly amount of clutter.
Having a cluttered home office isn't just aesthetically unappealing, it can also wreak havoc on your productivity – which as we all know – impacts your bottom line.
But don't worry, Spacer is here for you. These nine home office storage products will solve your storage woes while you get down to business, well, getting down to business!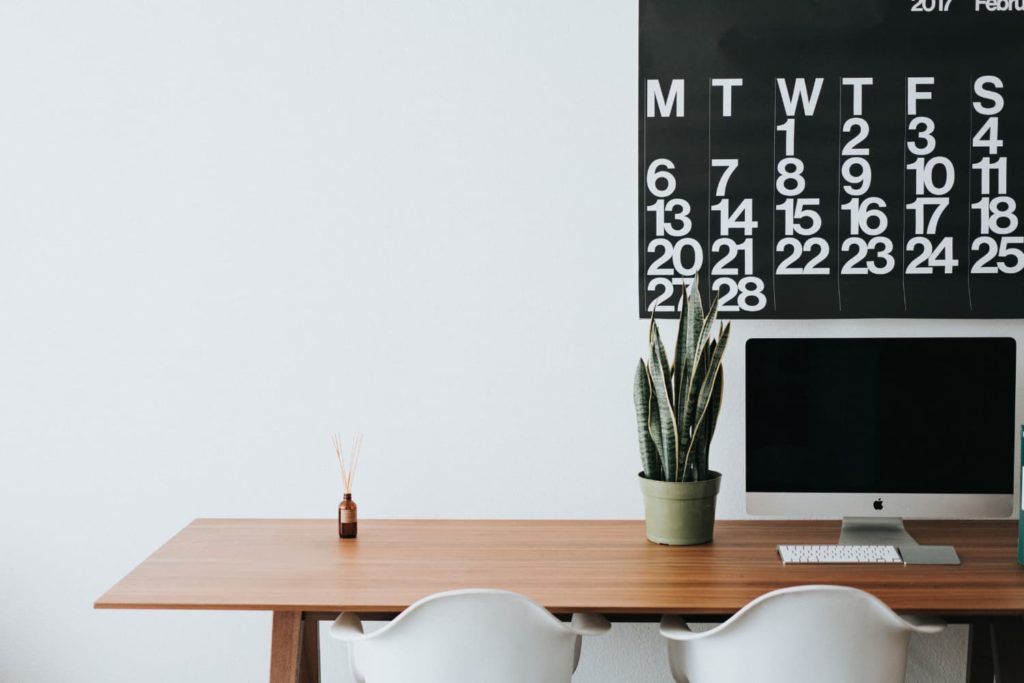 How Does Office Clutter Affect Productivity
Before you discover how to go about optimising your office space for storage, it's vital to understand why getting rid of office clutter is so important. In short, a cluttered office equals a cluttered mind.
Mess causes stress, and a cluttered desk is no exception. If your desk or office is cluttered, you will find yourself wasting precious time searching for documents and stationery. Plus, less clutter means there is less risk of being distracted. This Harvard study proved that participants who had less clutter in their work environment were not only better able to focus, but their productivity increased.
How Do You Choose the Right Office Furniture to Optimise for Storage?
Office storage space is a hot commodity. Just like your business and role is unique, so are your  ideal storage solutions. What works for one home worker may not work for the next. Therefore, it's important to establish what your unique needs are.
Ask yourself the following questions to help determine which office furniture you need to optimise your space:
– How big is your office space?
– What essential office equipment will you need easy access to?
– How many documents and files do you need to keep on hand?
– Do you plan on seeing clients in your home office?
– How many people does your office need to accommodate?
– Do you need to keep any personal storage in your office area?
By answering these questions, you'll have a good idea of what furniture you'll be needing.
1. Desks
Start Simple: Get a Desk with Drawers
When faced with a problem, oftentimes the simplest solution is overlooked. In this case, a desk with drawers may be your office space's saving grace.
A desk with drawers is a multi-use piece of office gear that acts as both functional furniture and a storage solution.
You can get your hands on a desk with drawers almost anywhere in Australia. At Officeworks, a starter desk with drawers starts at $75 while a premium model will set you back $399.
If budget isn't an issue, you could also enlist the help of a carpenter to craft you a bespoke desk with drawers like no other.  Here are some the most popular models of office desks currently on the market:
Get a Desk Designed for Tiny Spaces
Keep clutter at bay and make the most of your home office with a desk that has been specifically designed for tiny spaces. You can get your hands on such desks from furniture stores and office supply stores. This is perfect for those of us who might not have the luxury of a full office to ourselves, or are struggling to make the most of a section of our lounge room or bedroom.
Wall-Mounted Drop-Leaf Tables
By mounting a drop-leaf table to a wall, you're eliminating the possibility of clutter completely. This is because when you're finished at your desk, you simply fold it down, so it rests against the wall. Such desks are available at IKEA for as little as $39.
Ladder Desks
Ladder desks are perfect for modern home offices. Firstly, they take up very little floor space AND capitalise on the empty wall space above it. Secondly, they double as both a desk and a shelving solution.
Thirdly, its unique design means that it will be nearly impossible for clutter to accumulate. Finally, ladder desks are incredibly stylish! They're available at stores such as SLH and West Elm and typically cost just over $500.
2. Shelving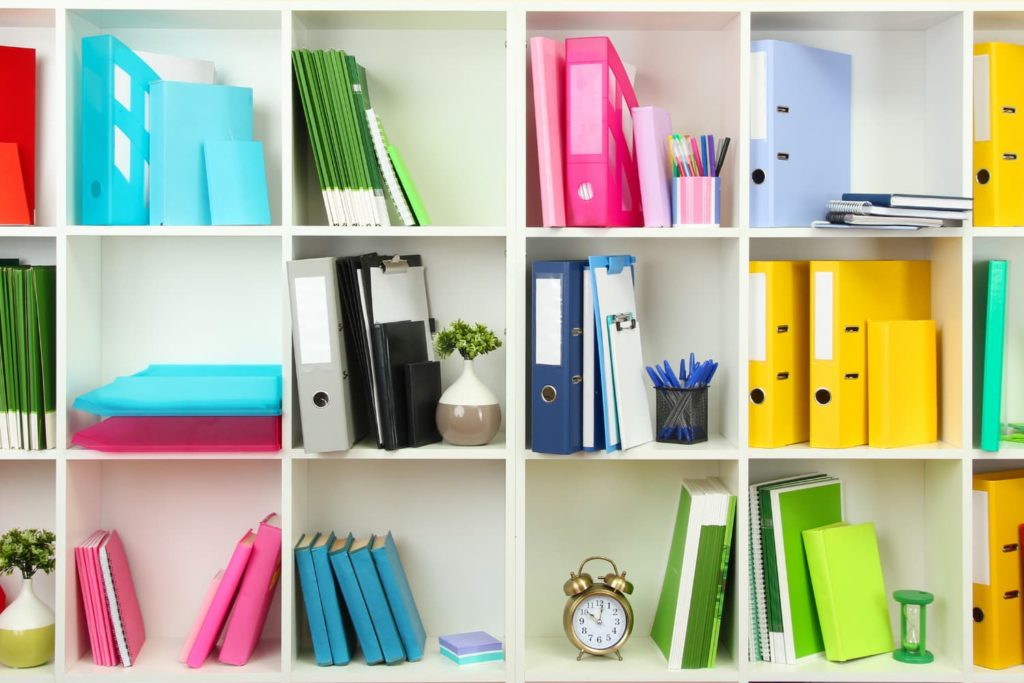 Look to Walls with Built-In Shelves
Built-in shelves are a wonderful space saver because they don't take up an inch of floor space. Instead, they make use of a space that is almost always neglected: the walls!
They're super stylish, provide much-needed storage space, and are affordable. Built-in shelves act as both a storage solution and piece of office décor, making them a wise investment. You can use built-in shelves to display ornaments, frame certificates, and store important files.
Another bonus about getting built-in shelves is that you can't just buy them from a shop, so no set will be the same as the other. Carpenters, interior designers, general contractors, and shelving stores will be able to provide you with a custom built-in shelving system to suit your budget.  
Always Opt for Adjustable Shelves
Adjustable shelves are a miracle for the modern-day office worker. An adjustable shelving system is just that; shelves that can be adjusted according to your individual needs. Adjustable shelves – also known as collapsible shelves – are a great option for growing businesses because as your office storage requirements grow, your shelves grow along with them.
You can use adjustable shelves for the storage of items ranging from books to files and everything in between.  While adjustable shelves are growing in popularity, they're not available everywhere and you're not likely to find them at your local stationery store. Stores like The Shelving Shop, Mr. Shelf, Fit n Float, Top Shelf, and One Stop Shelving stock adjustable shelves at various price points.
3. Folders, Organisers and Accessories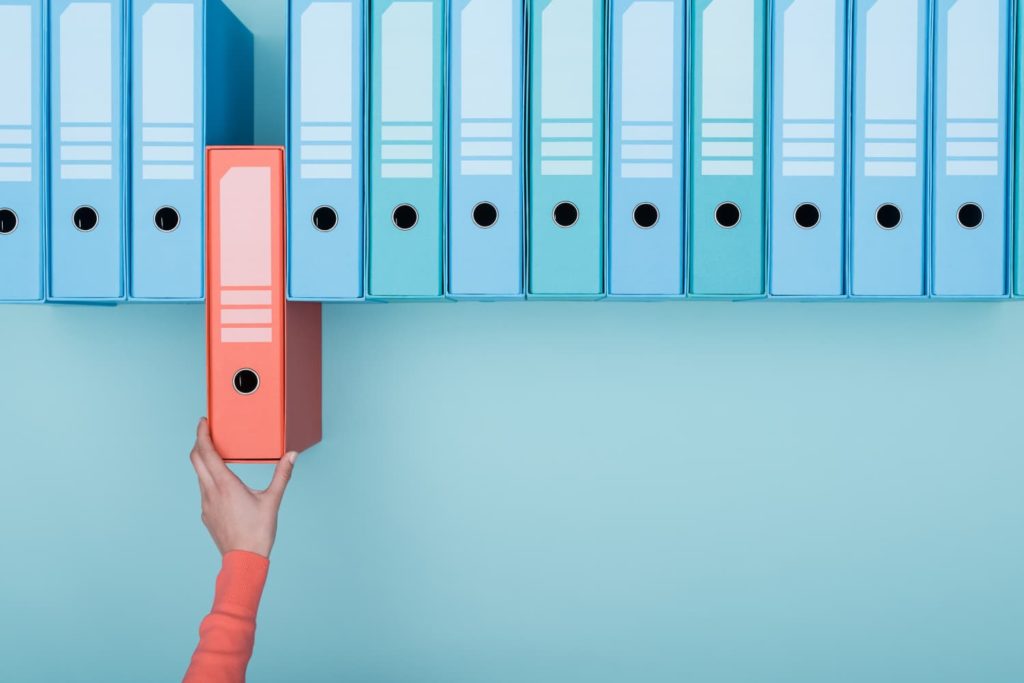 Seperators to the rescue
An added perk that comes with sorting out your storage situation is that plenty of office storage solutions double as organisational tools. The desk is one of the most important areas of any office, but it's also the one area that gets cluttered the most. 
A classic letter tray is great for people who don't deal with too much paper, is available pretty much anywhere that sells office stationery, and costs under $10.Desk drawer separators and compartment trays are  ideal for those who like to keep their go-to stationary neatly organised (and hidden!)
And finally, desktop file organisers are perfect for people who deal with lots of paper and live for intense organisation. Desktop file organisers are available at Officeworks and cost between $15.96 and $17.96. 
A Shredder is a staple!
Don't worry about finding a place to store unwanted and unnecessary documents when you can simply shred them. When you're officially done with a document or want to get rid of the doodle evidence from your last Zoom meeting, pop it in the shredder.
Shredders boast a streamlined design, so they don't take up much space, and they're available at most office supply stores across Australia. For those who still write manual notes, or have a job that involves confidential documents, a shredder is often the essential you never knew you needed – and you can even use the shreds for compost when you're done.
Bonus: they're also budget-friendly! Depending on the brand and its capacity, shredders from Officeworks cost between $69 and $5,999. Plus, the shredded paper can be used as padding when storing fragile goods in boxes.
Keep Those Cords and Cables Organised
Cords and cables might not take up much space, but they sure do make a space feel cluttered. The cords and cables can easily become tangled which not only looks terrible but can also cause damage to your electronics.
This is where cord and cable organisers come in. Their purpose is straightforward: they keep cords and cables either looking neat and tidy or hidden from view completely. There are many different types of cable organisers.
Cable organisers vary in price according to their design. A basic cord concealer from Officeworks can cost as little as $3.88 while cable trays that are designed to be attached to the underside of your desk can cost up to $69.
These products can be found across Australia in electronic stores, hardware stores, and office supply stores. Brightly coloured cable organisers as well as those that boast unique designs may need to be imported.
Level Up with Lever Arch Folders
Lever arch files and folders are an essential item in all offices, not just those that are strapped for space. What separates lever arch files from other types of files is that they come with spine labels for easy document categorisation, have an easy-to-open metal mechanism, and they are designed to last.
Lever arch files and folders are very affordable with Officeworks and other office supply stores selling them for as little as $4.99. In addition to being inexpensive, lever arch files and folders are available in a variety of sizes, styles, and colours so you can proudly display them.
Fill Up a Filing Cabinet
Filing cabinets may be considered old school, but they still serve a purpose. And they serve that purpose well.
Instead of letting your papers pile up on your desk, place them in a filing cabinet and organise them by date, client, or in alphabetical order for maximum efficiency.
Though filing cabinets aren't necessarily multi-use like the other options in this post, there's a reason why they're still found in almost every office. And unlike the filing cabinets of the past, today they're available in all kinds of styles and designs to match every interior.
Since they're still so popular, you can purchase a filing cabinet everywhere from IKEA to Officeworks. Filing cabinets typically come with a price-tag of between $129 to $1,099 – meaning there's not only a perfect type of filing cabinet for every home office, but an option for every budget too.
Alternative Storage Option
Even though the nine home office storage products we introduced you to today are guaranteed space savers, unfortunately, there isn't one perfect solution for all home offices.
If you genuinely don't have the space or don't have the budget to make any more purchases for your office, Spacer is an alternative option for you to consider. Spacer has a variety of storage solutions on offer no matter what your needs may be, with special options for document management or affordable self-storage units.
Whether you want to free up more space by removing your personal storage, or simply need a safe space to store older documents, Spacer has an option for everyone. Simply sign up, search for a space that meets your unique requirements, and make your booking.