New Year's Eve Parking Tips for Melbourne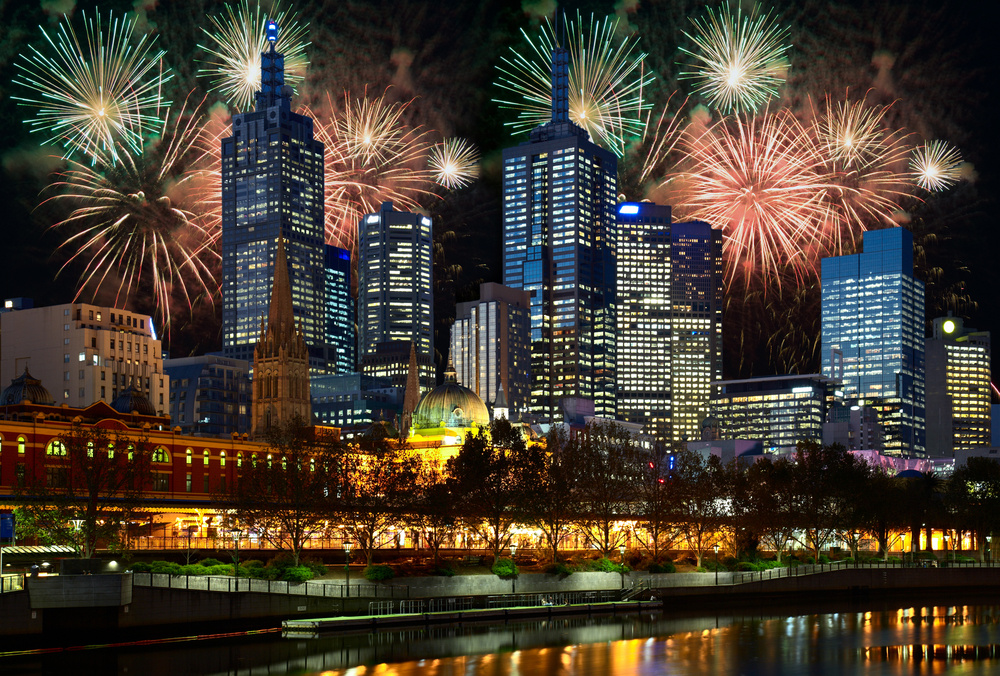 New Year's Eve in Melbourne is a very special event with around 700,000 visitors each year to watch the Melbourne New Year's Eve fireworks. It has been a Melburnian tradition to go out and have fun at the city with live entertainment, a selection of great food, quality time with family and friends and that festive atmosphere. The City of Melbourne, as always, prepared official live sites where you can get the best fireworks display view. The live sites are Yarra Park, Footscray Park Precinct, Treasury Gardens, Docklands, Flagstaff Gardens and Kings Domain. All of which provide amenities such as food outlets, toilet facilities and feature free live entertainment leading up to and following the fireworks display.
Getting to Melbourne City should be easy since train and tram services will run all night to a normal Saturday timetable. Bus services will run to a normal weekend timetable as well. But a really huge crowd is expected on the night, so bring a whole lot of patience with you as there will surely be long delays on public transport. If you are going to the city with a group of friends or with children and wish to travel by car, remember to take note of changes to parking restrictions and traffic access at city locations due to road closures. You must be wondering, with so many people flocking to the city on the busiest night in Melbourne, where can you possibly find a parking?
NYE 2017 Live Sites
The fireworks display are scheduled twice on New Year's Eve. According to the City of Melbourne website, the event is divided into 2 separate programs in 6 live sites.
Early Evening
The early evening program is ideal for families with kids. Yarra Park, located right next to the Melbourne Cricket Ground (MCG) is an early evening live site which offers free stage entertainment, films and a spectacular fireworks display. The show starts at 6:00 PM until 10:00 PM only. Maribyrnong City Council is hosting New Year's Eve at Footscray Park with almost the same entertainment but will start and end 30 minutes later than that at Yarra Park.
Midnight
There are four official midnight live sites, namely, Treasury Gardens, Docklands, Flagstaff Gardens and Kings Domain. that are set to provide free music from local DJs, special effects and a multimedia countdown, food outlets and toilet facilities. These locations are just perfect for the midnight fireworks viewing. Programs on all sites starts at 9:00 PM and end at 1:00 AM.
Above is a summary of when live performances and fireworks on all live sites will start. For more information on performances and movies on the NYE, please check their website.
NYE Parking Options
Once you've decided which live site you want to spend the rest of the night at and chose to travel into the city by car, please leave early so you can find that perfect picnic spot. As for parking, only Yarra Park and Footscray Park offer parking facilities via MCG ($10.00) and Victoria University ($5.60) respectively. However, these parking spots are likely to be filled with cars before nighttime.
It is recommend that you pre-book your parking for New Year's Eve. This will guarantee you a parking space and save you time and money. We checked on availability and price range for third party parking on New Year's Eve:
These are the top 3 third party parking solutions provider: Wilson Parking, Secure Parking and Parkhound. Parking spaces are available all throughout 6 live sites but is a bit pricey compared to the others. Most spaces are around 400m to 1km away from the sites. While most offer 24-hour access, some are open only up until 10:00 PM. Remember, the early evening event finishes at the same time.
Secure Parking, on the other hand, is mainly not operational during the New Year. There are available parking facilities at Treasury Gardens and Flagstaff Gardens. Checking the website for updates on time and availability is also recommended as while we found a possible match in Kings Domain, it has been fully booked.
Another affordable and convenient alternative is the parking sharing platform called Parkhound. It is a community marketplace, joining people with spaces with those who seek a cost-effective, hassle-free parking solution. Because it utilises already existing carports, driveways and garages around the area, it can offer a wider range of parking options depending on the renter's need. Parkhound offers both long and short-term parking options for a fraction of the price. Parkhound also provides opportunities for you to support your community by listing your unused parking spaces and make extra income by the start of 2018. And while you are it, you may want to consider renting out your extra storage at home through our website for a little extra monthly income. Listing is free.
However you want to travel to the city on New Years' Eve, it is always important for you to plan ahead, determining when you should leave the house, your choice of live site and program schedule. Due to large crowds, long delays should be anticipated, especially in the central CBD area. We highly recommend that you book your parking space online in advance, so you can choose from the list of affordable carports, driveways and garages open 24 hours a day and usually a stone throw from the venue.
We hope you'll have a stress-free, safe and fun New Years' Eve in the city with your family and friends. Happy New Year from all of us here at Spacer.