Self-storage refers to renting or buying a container or storage space for the safe-keeping of possessions. You've probably heard of people making use of safety deposit boxes at their local bank. They avail of this mainly for better security and surveillance. However, the amount or number of items you can keep in a safe deposit box is limited. If you prefer a larger space where you can store bigger and more belongings, why not rent a self-storage unit? Self- storage unit rentals are a big business these days, especially across Australia. 
Benefits of a Storage Space
No matter how big your home is, there will always be some items scattered somewhere inside the house. If it feels like you're always trying to clean up your spaces, and yet the mountain of stuff are never-ending then you're not alone! When choosing a storage space, you need to first consider the location and the reason you need one. Most people make use of boxes and fill them with the things they no longer reguarly use. The average garage measures 3 metres wide and 5 to 6 metres long, which quickly gets full – especially if you need to store your car there.
Related: 18 Tips To Declutter Your Home & Create More Space
If you're on the fence about renting extra storage space, here are some benefits you might not have considered:
A spacious home
Some people may not consider this a big deal because they are used to having a huge space to move around in. But imagine what it would mean to you–vast space and the relief of getting rid of items you don't need or use anymore. Several storage units are available for renting around Sydney, Melbourne and other major Australian cities. If you're wondering, "Is there any storage near me?" the answer is always "yes." For items that you value and treasure, keep everything in storage, especially if you don't use them often. Just remember that some storage units can also be utilized as an extra garage for your car.
Bigger, better value
Safe Custody or Safety Deposit Box services offer similar space storage capability as a regular storage unit. A safety deposit box costs $110 monthly and can keep only small items like jewellery, documents, and money. Storage units are, of course, more expensive; thus, you might assume that renting a storage unit will cost you a lot of money. However, choosing these units would be a wise decision financially and space-wise. Although the common price rate for a storage space unit is $250 to $500 monthly, the advantage is that you have much more room to play with compared to something like a safety deposit box.
Good for business
It is not only old memorabilia from your gran that you can keep in these storage units. If you have a business, you need a place where you can keep track of your inventory, store paperwork and even excess supply. Consider a convenience store as an example. Some employers also use storage units to keep their employees' documents. The storage can be document storage, restaurant storage, short-term storage, long-term storage, or a spare room for brief conferences or meetings.
Select your security
Most people will immediately assume that these rental storage units aren't safe. If you're worried about security against robbers, design your own security. There are independently owned storage facilities and there are facility storage chains. Install the best locks and security alarms. You can also choose the door you want as barriers for your possessions. Most facility-owned storages are well guarded 24/7 or offer their own security measures. You can also keep an eye on your storage unit by installing a wireless CCTV that is connected to your home computer. If you see something or someone breaking in, call the authorities.
An opportunity to earn
Are you familiar with the American Television series "Storage Wars?" If you are, then you already have an idea of what this one is all about. Storage units filled with your many forgotten items might be a good source of money someday. Most people pay good money for valuable goods. You can make thousands of dollars, depending on the items you have in the storage. You can then sell them in garage sales. Not a bad way to earn some cash, right?
Related: 8 Passive Income Ideas – Tested and Ranked!
The Best Storage Near You
You might be asking yourself, "what is the best storage near me?" In Australia, there are several well-known self-storage renting companies such as Kennards Storage, Storage King, and Spacer. All of these facilities provide storage for personal spaces, store supplies, garage spaces, wine cellars, document storage, and more. You may keep anything you want to store; just make sure to keep everything in accordance with your local laws.
Kennards Storage
Kennards is a family-owned business. Their services extend to other countries like the United States, New Zealand, Japan, Singapore, and South Africa. Kennards Storage is impressive when it comes to security. They operate with the latest security system tools and technologies like surveillance cameras and access control systems. They have many different options of storage sizes, and transparent pricing on their website.
Storage King
Storage King is one of the leading storage unit companies in all of Australia and New Zealand. This brand is often recognized by their flexible space estimator. You can give them the specific measurements you want for a storage unit, and they will find you one. Storage King also sells their King Boxes and King Packing Bags. Most of their customers make use of the storage by filling them with furniture and other house items. This company is also efficient when it comes to hygiene. They maintain their units or their customers' units clean, all the time.
Spacer
The marketplace for storage and parking, Spacer is one of the broadest brands in the country. Other than storage units, Spacer also provide spaces for vehicles like cars, trucks, and boats. There are 1,000's of locations available across Australia so you can store your items or vehicle closer to your home, making it more convenient & accessible. Prices average $250 for a lock-up single garage sized storage space, making it affordable, at around 50% less than traditional storage options.
Pricing Rates – Kennards vs. Storage King vs. Spacer
The price rates among the three storage brands varies. Please do your own research as prices change over time and vary greatly based on location. The Price for storage units is calculated mainly on the size of the storage you want. All three brands offer various sizes. They have the large locker, closet storage, small garage, four-car garage, and even a mini-warehouse.
Kennards storage price rates range from $37 to $5,600. The large locker is the cheapest and the mini-warehouse, the steepest. Kennards garage spaces typically start from $500 to $900.
The same goes for Storage King. The company focuses more on business or supply storage. Its single small garage can be rented from $250 to $499 monthly.
With Spacer, you can rent out a small garage space for as little as $116.50. The price rates are more economical compared to the other two, mostly because they have more available units for lease from neighbours in your local community. These owners then decide the price rate of their storage unit. Often they offer cheap and big garage storage units. They also offer single garage storage & parking with rates from $150 to $400.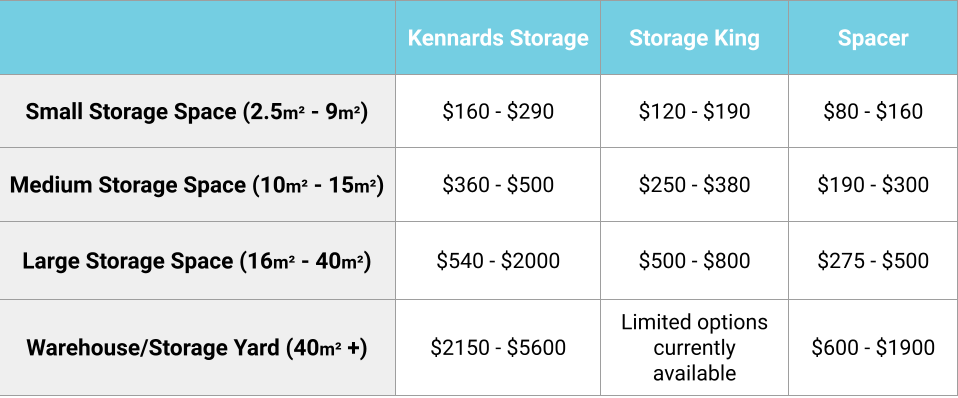 *Prices based on an average of several locations across NSW and VIC. Last updated 2021. 
The Self-Storage Industry
The value of the entire Self-Storage Industry in Australia is over $1 billion and is expected to increase this year. Statistics show an expected 1.6% increase just throughout this year. According to IBISWorld Report, the industry continues to grow because more people are moving to the city and living in apartments or
 condominiums, and due to Australia's extreme online shopping habits. There is limited space for belongings so many locals are opting keep their purchases in storage units near their place instead. According to Spacer's Mike Rosenbaum, the average amount people pay for storage units is $250 monthly.
This industry started to grow in the 1990s. There are thousands of small and large operators in Australia alone. This is an industry that many will continue to be reliant as rent prices continue to increase and living spaces become ever smaller. 
In a Nutshell
Despite its obvious benefits, many are still reluctant to try out a storage unit for themselves, preferring to have their belongings with them, inside their home. Renting storage units will make your home, business, and store more organized. Remember, an organized environment increases productivity. Don't forget to consider all the little factors. It is never a waste of money to rent a storage unit from a trustworthy host. Just ensure to maintain the space's security system and to check all of your items regularly.
If you ever need extra space and you don't want to sell your great grandmother's marble furniture or your precious trinkets from High School, keep it somewhere safe. There will always be storage near you with Spacer. Find out more here.