The Best Ways to Clear and Declutter your Storage Space or Unit or Garage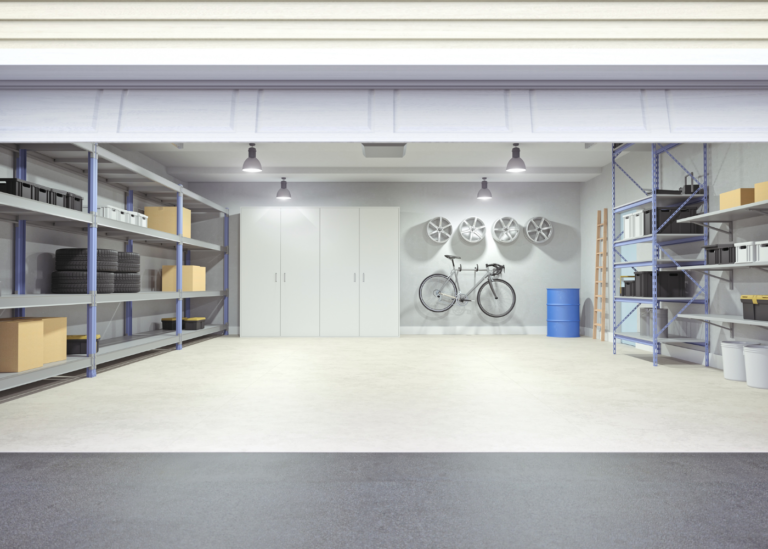 For many storage unit owners, it's all about fitting as many items in as compact of a space as possible, locking the door, and forgetting about it. A glimpse into some of these storage units would make your jaw drop to see just how creative a person had to be to fit so many things inside.
While impressive for anyone who has ever played Tetris, this storage method is a disaster for your items. Boxes on the bottom inevitably buckle under the pressure, pests have free range of nooks and crannies, and anyone who attempts to pull out a single item risks the whole structure toppling down. It's no wonder that these spaces are often locked up and ignored until absolutely necessary.
But it doesn't have to be that way!
Keeping an organised storage unit can actually maximise your storage space while keeping your items safe and sound. And maintaining a tidy storage unit is easier than you might expect.
In this Spacer article, we're going to explain exactly how organisation can keep your storage unit safe from mould, pests, and other types of damage. Here are a few topics we'll cover:
Best decluttering practices, so that you can store only what you need

How to find the right storage space for your items

Storage tips and tricks from the professionals to maximise your floorspace

Special tips for first time storage renters


With these simple steps, you'll have a storage unit that doesn't make you want to throw away the key!
Only store what you want to keep: best decluttering practices
The first step in having an organised and tidy storage space is to consider what exactly you want to store. Stacking boxes of books that don't interest you or holding onto that crafting project that you never finished is not a good use of your space. The first thing you'll want to do is declutter your storage item list. Here's how:
Make an inventory of all of your possible stored items. We have to say, we love this step. Listing out all of your personal belongings on a sheet of paper or in a digital note makes dealing with the clutter much more manageable. 

Instead of physically handling items one-by-one or making mental notes, you can easily cross off the items that you want to get rid of and circle the ones that you want to keep. That way, when you're ready to start moving items around, you have a sense of direction. Plus, having a physical inventory of your items may just be the motivational push you need to start letting go of unused stuff.

Now, if you're having trouble listing everything because there are so many items or you can't pull everything out without creating an absolute disaster, you can break the process down into smaller chunks. Focus on one shelf, for example, or a set number of items at a time. That said, having a master list of everything you're considering placing in storage will help with the next step.
Tackle the duplicates, first. There are plenty of reasons why you might have multiple of the same item. But really ask yourself if you need so many bed sheet sets or old appliances or duplicate gifts from people who forgot to check the registry. If you have more than one of something and you don't use the extra, put it in the pile to donate or dispose of.  

Consider downsizing through digitising. In general, the fewer documents that you can keep in storage the better. Not only are papers and pictures some of the most vulnerable materials in the case of a flood or fire, but they also attract nesting insects and rodents to your storage unit. If you can, set about digitising your documents and disposing of or recycling the physical copies. 



When it comes to old postcards, letters, and polaroids, you might consider memorialising these special items in a scrapbook with plastic covering or picture frame that you can display in your home. 


Let go of past fashion trends (or anything you haven't worn in a year or more). Getting rid of clothes can be a difficult process, especially when your old concert tees or favourite shoes bring up lovely memories. Perhaps you can keep a few select items with significant emotional meaning while saying goodbye to all other clothing items that are no longer used.



When you get stuck, consider the benefits of decluttering. There's a point in the decluttering process that you might think to yourself, "Well, what's the harm in keeping these items?" And it's true that some items will bring you joy every time you see them. 

But it's also worth noting that too much clutter, even in our storage spaces, is not great for our mental health. Clutter has been shown to increase stress and anxiety in our lives. When we start to feel overwhelmed by clutter, it's that feeling of a loss of control that can be really harmful. Clearing out the items that have a hold on us is empowering, and the end result can make us feel calm and in control.

If you're struggling to clear out your extra stuff, try reminding yourself how good it will feel to have a more manageable storage unit filled only with your most treasured items. 
We won't sugarcoat it: decluttering is the most difficult part of having an organised storage unit. But, when you put in the effort in this stage, you'll be amazed at how much easier it will be to organise and maintain the quality of your items!
After you've said goodbye to some of the extra clutter, take a moment to congratulate yourself before starting the next step. You deserve it!
Finding the right storage unit 
Once you have a clear idea of how many items you'll want to place in your storage unit, you can start the search for the perfect storage solution.
There are a few conditions to keep in mind when looking for the right storage unit. They include dimensions, environment, and closeness to home. Here's a deeper look into those three factors:


Dimensions. The tendency to opt for the smallest storage unit available is understandable. We all want to lower the storage cost, so why not try to fit as much as we can into the smallest possible area?

As we mentioned before, though, cramming too many items into a small space can put your items at risk for damage and pests. On top of that, an overcrowded storage unit may not have enough airflow to deter mould growth. So, you want to make sure to choose a storage unit that is appropriate for the amount of items you want to store. After all, a bit of extra space isn't likely to increase your storage rates by much, but you will be able to take better care of your items. 


Environment. To protect your items, you want to find a temperature controlled space with good ventilation and low humidity. A storage unit that is too hot, damp, or exposed to the elements will damage your items and invite mould or pests. 



Proximity to home. Having a conveniently located storage unit is more important than you might think. That's because you should be airing out and cleaning your storage facility a few times per year. Cleaning the items in your storage unit every four months or so will lower the risk for nesting critters and freshen up the air to prevent mould growth. 

Make sure that you factor in this regular cleaning routine as you start looking for the perfect storage unit. Instead of searching "storage unit Sydney," "storage unit Melbourne," or "storage unit Brisbane," try narrowing your search to a radius that will give you easy access to your storage unit. 

With Spacer, you can find cheap storage options right in your neighbourhood. Whether you're looking to rent out part of a garage or book a traditional storage unit, Spacer has the options you're looking for. With helpful filters, you can be specific, searching wide areas for "storage unit Sydney" or zooming in on smaller suburbs in Melbourne, Brisbane, or wherever you live.


Storage unit access. Another important aspect to your ideal storage unit is accessibility. On the one hand, easily accessed storage units won't require you to carry your heavy furniture up flights of stairs. 

And on the other hand, you want to pay attention to access restrictions. Will you be able to drop in for a quick cleaning when it fits your busy schedule? Is there weekend access? How much notice does your Host need?

On Spacer, Hosts will state their access guidelines so that you can expect how and when you'll be able to drop in on your storage space. Getting in touch with your Host is simple and quick, so that you can find a good time for you to come to the storage space. If you need 24/7 access to your storage unit, you can engage a filter for that while you search. 


How to organise your storage unit
You've booked your ideal storage unit and you've narrowed down the items that you want to store. That means you're ready to start packing! This step is all about packing your items for safe long term storage and finding the right organisation tools to keep your storage unit tidy.
Let's start with a few fundamental packing tips:


Fabrics need to breathe. There are a lot of misconceptions floating around when it comes to storing linens and fabrics. 
Surprisingly, storing your clothing and bed sheets in vacuum-packed or tight plastic containers can actually damage the fibres in your fabrics. Sure, you'll lower the risk for clothes moths, but your clothes might not be wearable when you bring them out of storage. Breathable cloth bags and boxes are best for your linens, and you can throw in some insect repelling scents to ward off the pests. Learn more about how to store fabrics in our article, Storing Outerwear: Is there a Correct Way?


Research the best way to store your valuables. No matter if you're storing a generations-old tea set or your treasured book collection, the items that are most important to you should get extra care. Do some research on the best way to store your unique items so that they can last for years to come. If you take a look at the Spacer blog, we've covered how to store a range of valuable items: comic books, stamps, vinyls, and more.


Assume that your items aren't as hardy as they look. Hardback books, CD cases, picture frames, and other items that may look durable often get overpacked in storage. The settling process can take a toll on these items when they're not packed the right way.

In general, keep books, VHS tapes, picture frames and other similar items stored upright. This will protect bindings and glass while maximising your storage capacity. Sturdy bookends can be a helpful organisation tool in your storage boxes so that your items are never overpacked or allowed to tilt.

When storing breakable items like dinnerware, make sure to wrap each piece and fasten sets together to prevent movement in your storage boxes.


Maximise visibility. We highly recommend using transparent storage boxes and a labelling system to help you keep track of items at a glance. 

When it comes to labeling, try to be as specific as possible. "Winter hats and sweaters," for example, is a much more useful label than "clothes." You'd be surprised at how helpful a few extra words can be when you're trying to find one specific item in storage.
Now, how about layout? When actually placing your items in storage, keep these organisation tips in mind:
Invest in a shelving system. Installing shelves or using a free-standing shelving unit can completely transform your storage space. First, they'll allow you to store your boxes off the floor, which will protect them from minor flooding or curious critters. Plus, storing items on shelves will help protect their integrity by limiting stacking.  

Finally, shelves keep you safe and take the hassle out of retrieving your items from storage. No more trying to handle a leaning stack of boxes to reach the items at the bottom. A shelf keeps everything in storage within reach.


Be strategic about placement. Before you start shuffling boxes into your storage space, take a look at the room. Eye-level storage space should be reserved for the items that you need quick access to. This could include guest linens, seasonal clothes, special occasion dinnerware, and anything else that will only be stored for a few months at a time. The spaces above, below and behind this line-of-sight space can be dedicated to boxes and items that you won't need to pull out any time soon.


Don't forget about air flow. As you start to fill out your storage unit, be mindful about ventilation. You don't want to overcrowd your shelves or stack too many items on top of one another. Remember that proper airflow is crucial for preventing mould growth, so keep a few centimetres between all objects if possible.


Tips for first time storage renters
If this is your first time renting out a storage unit, you might still have some questions about organisation and guidelines. Here are a few final tips that will make sure that you have a great storage experience:
Know what you can't store. Most storage facilities have guidelines about the types of items they allow their Renters to store. The Spacer guidelines, for instance, prevent you from storing toxic materials, perishables, and anything flammable, unstable or illegal. If you're not sure about whether your items are safe for storage, ask the customer service team!



Be a friendly Renter. Always give a Host as much notice as possible when you would like to access your storage unit, and keep your items tidy and clean.



Upgrade when you need to. When you start to outgrow your storage unit, it's better to upgrade to a new space instead of overcrowd your current one. Larger storage unit sizes will keep your items organised and safe, and protect the Host's space from damage.


Clear and declutter your storage space today!
As you can see, keeping an organised and clean storage space is simple and worthwhile. In addition to better protecting your items in storage, you'll love the convenience and look of a well-organised storage space!
If you have more questions about clearing and decluttering your storage unit, reach out to the Spacer team.