How to Best Transition Your Child's Room into a Teen's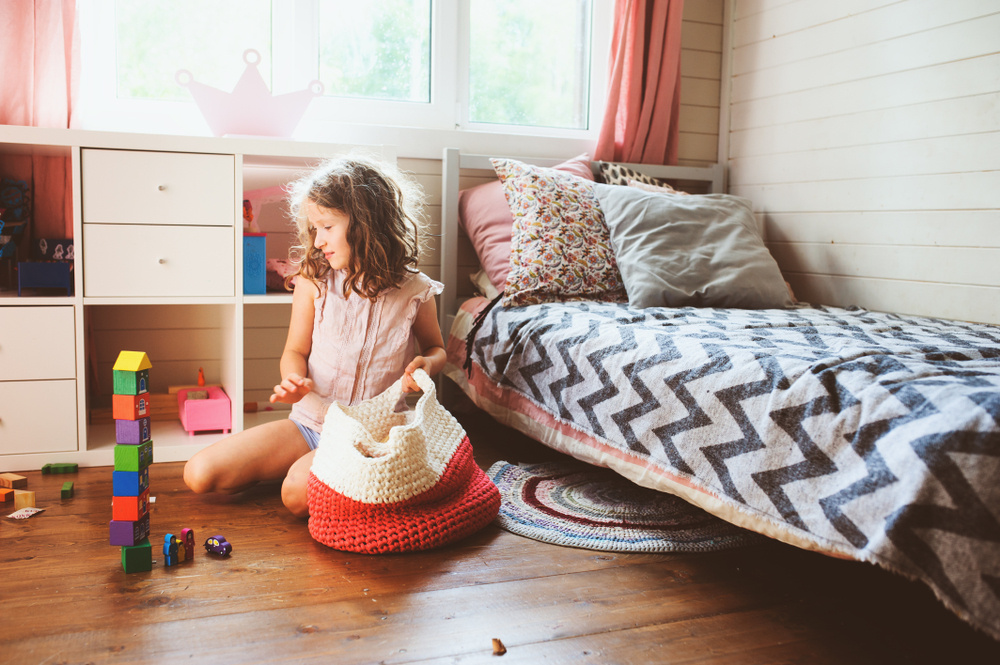 If your child is entering into the teen years, a DIY bedroom makeover is the perfect way to ring in this new phase! They'll love the chance to switch up their room to reflect their new hobbies and interests, and you'll be able to ensure that their space stays organised and easy-to-tidy.
Check out these Spacer organisation and makeover tips so that you and your child can have a fun and painless teen bedroom makeover experience!
Step One: Clear out the old to make way for the new
While there may be some items and furniture pieces that can stay in your child's room, there are quite a few things that will need to be cleared out. And, outdated decorations, never used toys, and too small furniture should be the first to go.
If you're wondering what to do with those outgrown items, you have a few options. When it comes to pieces that are high quality, you can likely sell them quickly. If not, you might want to find storage options for them while waiting for the right buyer (more on that in a moment). Another option would be to donate them, either to friends and family members or to op shops in your area. And finally, if you want to hold onto these items for your younger children, you can either do two bedroom makeovers at once – which might be a headache – or place them in storage until you're ready to use them.
For storage of your children's furniture, toys, and other decor, Spacer can help you find affordable, nearby storage options. The idea is that you can store these items in the garage or spare room of someone in your neighbourhood so that you know they'll be well taken care of and easily accessible when you're ready to retrieve them. Wherever you are in Australia, whether it's Canberra, Adelaide, Hobart or anywhere else, you can find cheap, reliable storage solutions within minutes of your home.
One last note about this step: while many teens will be happy to say goodbye to their child-friendly room design, clearing out old items can be a shock for some. If you notice your child having trouble letting go of their old items, make sure that they're included in the decision making process. Let them know that they have a big say in what goes, and emphasise that clearing out old items will mean that they have more space for new, exciting upgrades.
Step Two: Be practical
When you and your teen are thinking about what the new room will look like, there are a few guiding questions that can help the creativity process. On the one hand, you'll explore how your child will use their room, which will help you with practical decisions like layout and furniture. And, then, you can ask about things like themes and design – that will come in step three.
Let's explore the practical considerations, first. Ask yourself and your teen the following questions, to get at the root of what your teen values about their room:
How much time do they spend in their room?

Do they see it as a place to practice their favourite hobbies?

Is it where they spend time with friends?

Do they retreat to their room to do homework?
These questions will help your diy bedroom makeover incorporate some useful elements for your unique child. For instance, if your studious teen needs peace and quiet to do homework, you might make sure that they have a good quality desk, such as the Artiss metal desk with drawer. Or, maybe your teen does their homework at the kitchen table, and they would rather use that space in their room for some comfortable chairs or a sofa for when they have friends over. And don't forget about the bookworms out there! For teens who love to read, you would want to add something like the Artiss 6 Level DIY Wooden Bookshelf to house all of their paperbacks.
At the end of this step, you should have a list of furniture pieces to buy or incorporate into the new layout. But don't make any purchases yet! The next step will help you choose the right materials for this teen bedroom makeover.
Step Three: Design your room, teen team!
This is where you can let your creativity – or better yet, your teen's creativity – fly. But if you're not sure how to get started, you might look to a few common themes for inspiration:
Their favourite sport. For a young person involved in sports, this theme is an obvious choice. You may even be able to cleverly build in storage spaces for their equipment, medals and trophies!

Photography, music, or another of their hobbies. What is amazing about this theme is that it celebrates and encourages your child's unique skills and interests. For instance, if your teen loves to paint, draw or practice photography, you might reserve wall space for their "gallery wall in progress." Simply hang some empty frames on the wall, which they can fill with their own artwork or artwork that inspires them.

Modern patterns and a clean colour palette. Perhaps your teen would appreciate something more neutral while still looking trendy. That's when you can play with patterns and colours. In particular, we love the look of a geometric wallpaper and fun colour palette, or a bold wall colour with a intricately patterned quilt cover, like this Graphic Disorder Green Cotton Quilt Cover Set. Here's a helpful guide to developing the right room design colour palette for teens.
Step Four: Maximise storage
Now, this is the step that all of the parents have been waiting for. How can you ensure that your teen's diy bedroom isn't just fun, but also stays clean? Well, in truth, keeping things tidy will depend a lot on your teen's habits, and it will take some time to develop good organisation skills. That said, storage tools and organisation hacks are the secret weapons for a tidy bedroom. Here are some tips to keep in mind:
Make things easy. If your teen tends to throw dirty laundry on the floor instead of walking it down the hall to the family laundry basket, place a smaller laundry hamper in their room. If your teen dreads making the bed in the morning, simplify that task by not placing the bed along the wall. If there are odds and ends on their desk or bedside table, make sure that all storage containers are clearly labeled so that they can more easily replace items after use. These small but strategic changes will make tidying up much easier.

Invest in good-looking storage containers and tools. This may seem trivial, but we're all more likely to enjoy organisation if our storage tools look nice. Your teen, for instance, will probably prefer putting their shoes away in something chic like the Artiss Shoe Cabinet instead of that shoe rack at the bottom of their closet.

Schedule decluttering dates. Whether it's once a season or more often, have your teen spend a couple of hours decluttering their space. That might mean setting aside unseasonal clothes to place in storage or getting rid of things that they'll no longer need. This will ensure that your teen's space isn't crowded by mess!
Overall, tidiness is a process, and you can help your teen by giving them the organisation tools they need to be successful. Remember to give them plenty of praise when they put in the effort to tidy up!
Are you and your teen ready for the ultimate DIY bedroom makeover?
With these four steps, you can achieve an amazing teen bedroom makeover that your child is going to love. If you're looking for more guidance, don't hesitate to reach out! Spacer would love to help you and your teen with their diy bedroom!